Chifley Tower & Plaza Christmas Display
The Project
Known as the tallest building in Sydney's CBD, the Chifley Tower is an iconic landmark that hosts a wide range of prestigious firms. The Tower also includes the Chifley Plaza, which offers a selection of sophisticated fashion boutiques and high-quality eateries.
In 2017, Chifley was seeking a traditional Christmas experience with a contemporary touch. Given its elite reputation, it was essential for the design to reflect the opulent interiors and modern façade of the tower.
Designed by New York architects Kohn Pedersen Fox in collaboration with Sydney based Travis Partners, Chifley takes great pride in its architecture. It's said the tower, 'was conceived as a building that would stand amongst the most recognised and timeless pieces of architecture in the world'.
While the concept had to complement the striking architecture, it also had to make use of Christmas greenery and apply a warm colour palette with golden tones. Overall, Chifley required an entirely unique design that did not replicate any other commercial Christmas display.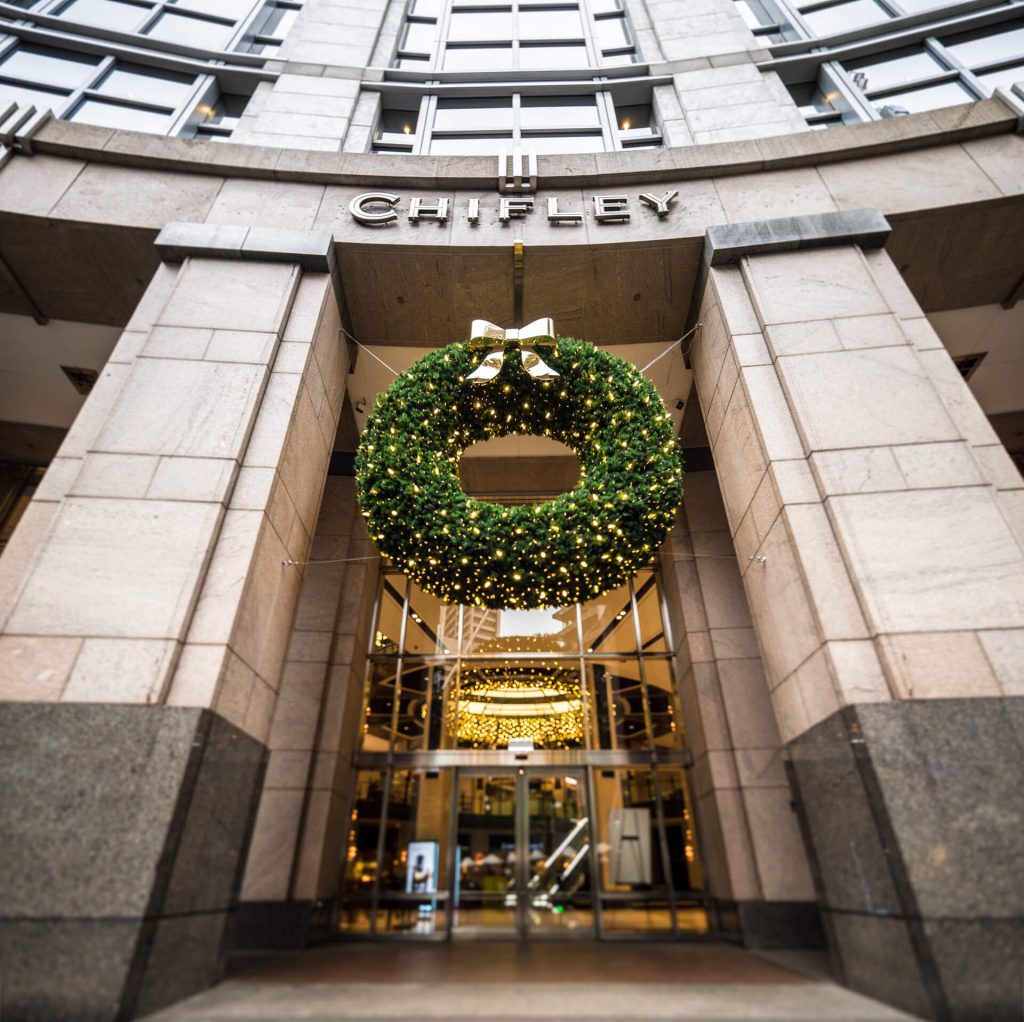 The Outcome
To acknowledge the grand stature of the tower, the Visual Inspirations team created the largest Christmas wreath ever made in Australia. At 10 metres in diameter, the enormous wreath was adorned with lights and decorations and attached to the circular skylight in the retail space.
In a nod to its New York origins, the lobby featured a Christmas tree that drew influence from the famed Rockefeller Centre. The statement tree was covered in thousands of individual decorations and lights, completely transforming the entrance to the tower.
Welcoming external decorations with premium finishes were placed at key entrance points, including a large, traditional wreath suspended from an archway. As the tower is primarily constructed from sandstone and marble, Visual Inspirations integrated natural elements such as birds and pinecones into the decorations, even introducing the scent of cinnamon to allow all who entered the building to enjoy the smell of Christmas.