The Strand Arcade Christmas Display
The Project
The Strand Arcade is the only original Victorian shopping arcade still standing in the Sydney CBD. Established in 1891, the three-storey building has become a premium retail destination and a respected heritage landmark.
As a stunning display of historical architecture, the Strand Arcade wanted to ensure its Christmas display was equally spectacular. Above all, the Strand Arcade wished to become a must-see destination at Christmas time, with the aim of driving foot traffic and aiding sales in all three levels of the building.
Featuring a combination of luxury Australian fashion designers and specialty stores, it was important to express similar themes in the Christmas concept. The Strand Arcade was looking for a stylish, fashion forward design with a uniquely Australian look and feel.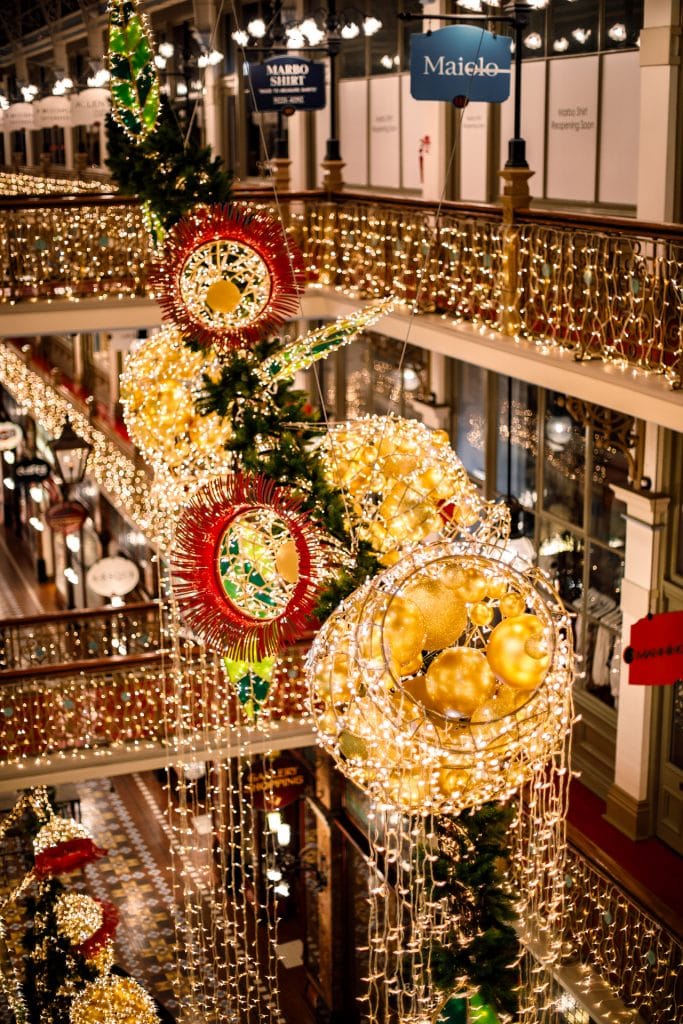 The Outcome
The main attraction of the Strand Arcade Christmas experience was the large-scale native flower installation. Suspended from the two main voids, the blossoming eucalyptus branches spanned the height of the building and were visible from all levels.
At 3.5 metres tall and 9.8 metres long, the hanging decorations included 15 acrylic green leaves, 9 red budding flowers and whimsical golden gumnuts. The quintessentially Australian installation was then brought to life by a cascading lighting design.
A second notable feature was the gumnut pod on the ground floor. Mirroring the installations hanging above, the 4×4.1m sculpture continued the native Christmas theme on the space below. The entire arcade was illuminated by 27,500 individual twinkling Christmas lights that covered the decorations as well as the balustrade on each storey of the building.
Blending the beautiful Australian landscape with a contemporary style, the Strand Arcade Christmas design honoured the history of the building while bringing the desired 'wow' factor to the space.